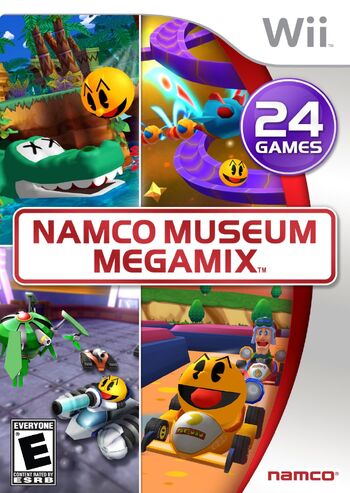 Namco Museum Megamix was released only for Wii on November 16, 2010. Megamix is an enhanced version of Namco Museum Remix. Megamix was published and developed by Bandai Namco.
On Namco Museum Megamix there is an array of arcade hits as well of remixed titles.
Arcade Hits
Edit
Cutie Q                                         
Dig Dug
Galaxian
Gaplus
Mappy
Pac & Pal
Pac-Mania
Super Pac-Man
Xevious
Bosconian
Dig Dug 2
Galaga
Grobda
King & Balloon
Motos
New Rally-X
Pac-Man
Rally-X
Remix Titles
Edit
Pac-Motos
Pac 'n Roll Remix
Galaga Remix
Rally-X
Gator Panic
Grobda Remix
Bosconian, Dig Dug 2, Galaga, Grobda, King & Balloon, Motos, New Rally-X, Pac-Man, Rally-X and Grobda Remix are not included in Namco Museum Remix.
In Japan, the renamed it Minna de Asobou! Namco Carnival.