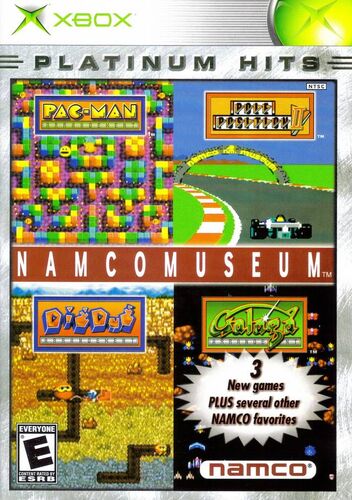 This edition of Namco Museum was released for the Playstation 2, Xbox and the Nintendo Gamecube on December 4, 2001, published by Namco and developed by Mass Media.
The games are in rows of eight. Pac-Man, Dig Dug, Galaga and Pole Position share the same rows with their arrangement counterpart.
Game Featured
Pac-Man
Pac-Man Arrangement
Galaga
Galaga Arrangement
Dig Dug
Dig Dug Arrangement
Pole Position
Pole Position 2
Ms. Pac-Man
Galaxian
Pac-Attack
Pac-Mania
This Edition marks the first collection in the series to release a non-arcade game Pac-Attack.
Most of these games are from Namco Museum (N64, Dreamcast) and the arrangement originate from Namco Classic Collection Vol.1 and Vol.2.
The audio for Pac-Man Arrangement and Dig Dug Arrangement have been slightly change making the music high pitch.
This edition of Namco Museum was only released in North America.
Each Version of this edition have different picture for the game in the front cover.